Blog Home
Ideas for National Letter Writing Day From Your Towson Apartment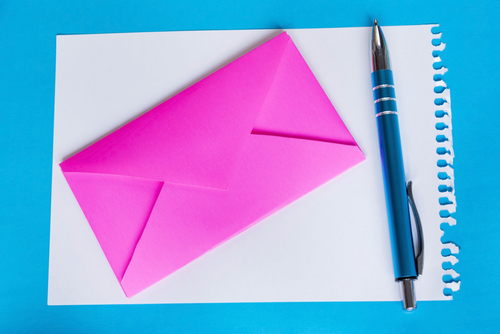 This month, The Southerly Blog is bringing residents of our apartment community ways to celebrate National Letter Writing Day on December 7th with tips for writing letters as well as local resources for cards and gifts. Check out Amy's Hallmark Shop, Greetings And Readings, and Paper Source all in the Towson, MD area. Read on for tips and to learn more about these local shops in today's blog post.
National Letter Writing Day
Tips for Writing Letters
Make sure your form matches your message
You don't want to write a handwritten letter for a cover letter or a business letter, and a letter on a business letterhead might not be a good choice when you are writing a personal letter. Make sure that your form matches the message you want to convey. Make sure that your professional letters are on a formal letterhead; never handwrite a business letter. Your personal letters can be much more personable — handwrite your letters, include fun stickers, stick a few pictures in the envelope, and add in a few funny drawings. Just make sure that your letters fit the circumstance and the audience.
Adjust your tone
It's not enough to fit your form to your message; your message must also fit your audience. Writing a personal letter? Feel free to be as funny, wacky, and silly as you'd like. If you are writing a letter to your boss or to a future employer, it's important to make your tone appropriately formal. Use formal language and minimize the amount of contractions in your prose. Refrain from making jokes or getting personal in your letter. Always keep your message in mind while you are writing.
Read and re-read for typos
Nothing is less professional than a letter chock full of typos. Want a new job? It's best to proofread your cover letter over and over again to make sure that your commas are all in the right places. Typos can make the recipient feel that you don't care about the letter or that you've been lazy or inattentive.
Format for a personal letter
Not sure how to begin? Start with just saying hello. Write in using your own voice (like how you would talk in person). Tell about what you've been doing, then ask what your recipient has been up too. Add some compliments about your recipient, and close with letting them know you would love to hear from them. End the letter with a sincere, love you, etc.
Local Shops for Supplies
With a broad selection of year-round and seasonal gifts and greeting cards, Amy's Hallmark Shop located at 43 W Aylesbury Rd in Lutherville Timonium, MD is the perfect store for all of your special occasions. Amy's Hallmark Shop is about a 9 minute drive from The Southerly.
Greetings And Readings is your holiday shopping destination for great stocking stuffers and games the whole family will enjoy! Product selection and availability varies throughout the year, so stop by today and check out what's in store for you at Greetings And Readings. Greetings And Readings is about 17 minutes from The Southerly.
Paper Source is about a 15 minute drive from The Southerly.
From the website: We want to join in as you to celebrate all of life's moments (the big and the small). Paper Source has that quirky card, chic personalized stationery, elegant invitations, or a beautifully wrapped gift that you are looking for.

Thanks for reading today's blog post! Happy holidays to everyone at The Southerly! We'll be back next year with more posts about fun DIY projects, apartment living tips, reviews, and more!